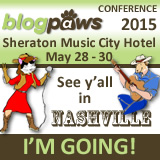 May is my Make It Happen Month!
All through April I blogged my little heart out participating in the A to Z 2015 April Challenge.  I started long before that, planning post titles and topics so I could see my way through from beginning to end. It was an exercise in discipline and my diligence paid off.  I was quite proud of myself for sticking with it.
Then May hit. Daily commitments saw  more time with my family and less time blogging. My posts have been light for May, but my planning and packing has been heavy.
I decided I needed a topic for the month of May and in between family and planning and packing it hit me –  with my ticket purchased for the BlogPaws  conference in Nashville this year, I decided May would be my Make It Happen month.
My expectations are large for this conference.  It's a sell – out and you won't be able to swing a sock without hitting a Blogger or a Brand Rep. I am excited to meet people that are my faithful followers on Twitter.  I can't wait to check out the exhibit hall where the brands and sponsors are waiting.  I am  looking forward to approaching the ones that I see as a good fit for Ruff Talk and initiate conversations that might lead to establishing  business relationships.
Then sadly, it will be over. Departure on Sunday will come way to quickly.  Home I will go with my cool conference T-shirt, and hopefully  a collection of business cards besides my own.  More importantly, I am confident I will come home with lessons learned on how to improve Ruff Talk and take it to the next levels. Those levels are yet to be determined but I know with all the support and expertise I will have experienced at the conference, I can say this May is the beginning of making it happen for Ruff Talk.
We hope you'll come along for the ride as Ruff Talk goes from May, our Make It Happen month, into the month of June, where we will be celebrating our blog's 2nd anniversary.